Weiss Ratings' Quantum Trader
If you are already a member of this service, please log in here.
Multiply Your Investment Portfolio by 14 Times – and Save a Whopping 47%!
Yours For Just $2,495 $1,195!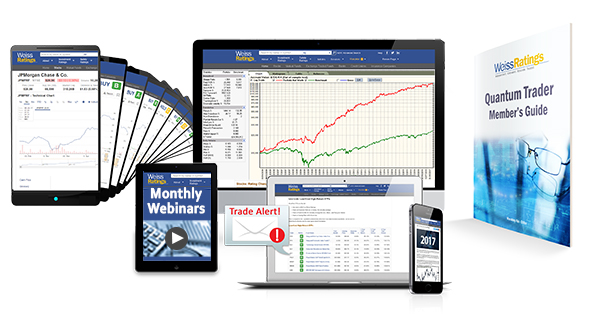 I'd like to thank you for trying out Weiss Ratings' Quantum Trader. I'm confident my service can help you multiply your investment portfolio by a factor of 14!
No, that's NOT a typo – and you can do it just by investing in regular stocks. NO options. NO penny stocks. And NO other type of excessively speculative plays.
With My Unique, Systematic Trading Service, You'll Get:
The Weiss Ratings' Quantum Trader Manual – This comprehensive yet easy-to-understand guide will provide you with greater detail about the HUGE technological advantage you'll have over other investors and traders, along with my systematic investing strategy that could have you generating profits within the next few days.
Weekly Weiss Ratings' Quantum Trader Alerts – Every Tuesday morning, I'll email you your trader alerts. I'll explain which stocks to buy and which ones to sell. You can take the recommendations and repeat them word-for-word to your broker, or simply copy and paste the trade order through your online brokerage account.
Weekly Market Commentary – Each week, I'll provide my commentary to explain trades in greater detail … along with my insights on the financial markets. It will be like getting a doctorate degree in Finance … only I break down the information in a way that anyone can understand.
Up-To-Date Research Reports On Every Company – Some readers just like to act on my recommendations with a brief explanation of my reasoning, and that's fine. Others want to have, at their fingertips, all my nitty-gritty analysis about each stock in the model portfolio, and that's fine too – because I will have that available for you as well.
Members-Only Webinars and Conference Calls – I will regularly take you behind the curtain and answer your questions about trading, the Weiss Ratings' Quantum Trader investing platform, profit potential for the rest of the year, and other special opportunities that are unknown by the general public.
Normally, a ONE-YEAR subscription to my Weiss Ratings' Quantum Traderinvestment advisory service costs $2,495. However, as part of this limited-time offer – you'll get a $1,300 discount and pay only $1,195. That's a savings of 47%!
Or take advantage of this limited-time offer to lock-in a TWO-YEAR subscription today for just $1,995. That's an even-bigger $3,005 discount off the two-year retail price of $5,000.
No matter which option you choose, rest assured you'll still be covered by our 60-day money-back guarantee! Simply tell us a bit about yourself below, pick the 1-year or 2-year option, and you'll have access to my research and welcome materials in a matter of minutes …